---
| | |
| --- | --- |
| Journal title | Jurnal Pedagogi Olahraga dan Kesehatan |
| Initials | JPOK |
| Abbreviation | J. Pedagogy Olahraga & Kes. |
| Frequency | 2 issues per year (May and November) |
| DOI | Prefix 10.21831 by   |
| ISSN Online | 2459-9891 |
| Editor-in-chief | Prof. Dr. Suharjana, M.Kes. |
| Publisher | Universitas Negeri Yogyakarta |
| Citation | Sinta | Google Scholar | Garuda | Dimension |
Jurnal Pedagogi Olahraga dan Kesehatan is a journal published by Universitas Negeri Yogyakarta. The journal is published twice a year, in May and November. Jurnal Pedagogi Olahraga dan Kesehatan biannually publishes research on various aspects of the sports and exercise sciences, including anatomy, biomechanics, performance analysis, physiology, psychology, sports medicine, sports nutrition, health, and well-being, as well as coaching and talent identification and physical education. The Journal also publishes review articles and book reviews.
The Journal focuses on the human sciences, including responses to technologies such as the design of sports equipment and training facilities, athlete selection and recruitment, performance analysis or modification, and stress reduction. To be considered for publication, manuscripts must be original and relevant to the aforementioned topics.
It is published by the Universitas Negeri Yogyakarta. However, the readership for this Journal covers academics to practitioners from a range of disciplines and topics of interest.
All articles published in this journal have undergone rigorous peer review based on initial editor screening and anonymous refereeing.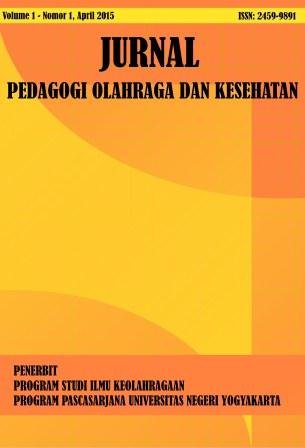 Announcements
No announcements have been published.
Vol 3, No 2 (2022)
Table of Contents
Articles
| | | |
| --- | --- | --- |
| | Refatana Asri Fani, Pamuji Sukoco | 65-79 |
| | | |
| --- | --- | --- |
| | Khusnul Aswin Sayekti, Ria Lumintuarso Lumintuarso | 80-90 |
| | | |
| --- | --- | --- |
| | Tri Ari Prasetyanto, Wawan Sundawan Suherman | 91-102 |
| | | |
| --- | --- | --- |
| | Sri Sulistianingrum Setiawan, Widiyanto Widiyanto | 103-111 |
| | | |
| --- | --- | --- |
| | Adi Surya Nugraha | 112-117 |