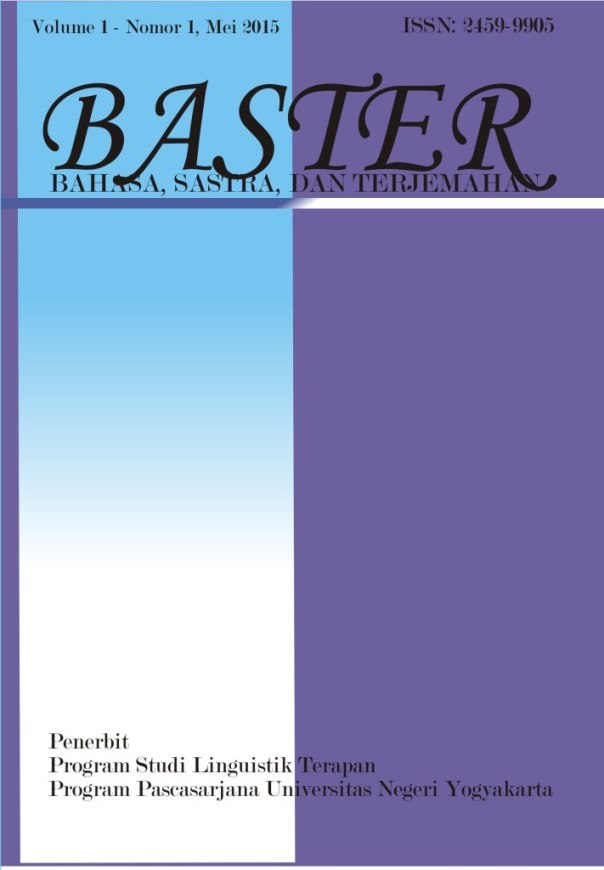 BASTER (Bahasa, Sastra, dan Terjemahan)
View Journal | Current Issue | Register
JURNAL EVALUASI PENDIDIKAN
Jurmal Evaluasi Pendidikan diterbitkan oleh Program Studi Penelitian dan Evaluasi Pendidikan Program Pascasarjana Universitas Negeri Yogyakarta. Jurnal Evaluasi Pendidikan memuat dan menyebarluaskan hasil-hasil penelitian yang fokus pada pengukuran, penelitian dan evaluasi pendidikan.
View Journal | Current Issue | Register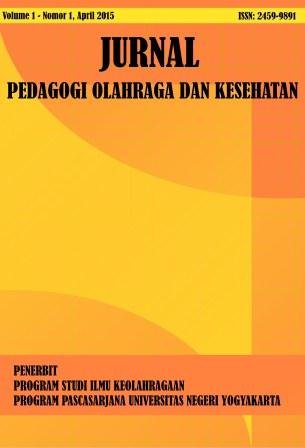 Jurnal Pedagogi Olahraga dan Kesehatan
---
| | |
| --- | --- |
| Journal title | Jurnal Pedagogi Olahraga dan Kesehatan |
| Initials | JPOK |
| Abbreviation | J. Pedagogy Olahraga & Kes. |
| Frequency | 2 issues per year (May and November) |
| DOI | Prefix 10.21831 by   |
| ISSN Online | 2459-9891 |
| Editor-in-chief | Prof. Dr. Suharjana, M.Kes. |
| Publisher | Universitas Negeri Yogyakarta |
| Citation | Sinta | Google Scholar | Garuda | Dimension |
Jurnal Pedagogi Olahraga dan Kesehatan is a journal published by Universitas Negeri Yogyakarta. The journal is published twice a year, in May and November. Jurnal Pedagogi Olahraga dan Kesehatan biannually publishes research on various aspects of the sports and exercise sciences, including anatomy, biomechanics, performance analysis, physiology, psychology, sports medicine, sports nutrition, health, and well-being, as well as coaching and talent identification and physical education. The Journal also publishes review articles and book reviews.
The Journal focuses on the human sciences, including responses to technologies such as the design of sports equipment and training facilities, athlete selection and recruitment, performance analysis or modification, and stress reduction. To be considered for publication, manuscripts must be original and relevant to the aforementioned topics.
It is published by the Universitas Negeri Yogyakarta. However, the readership for this Journal covers academics to practitioners from a range of disciplines and topics of interest.
All articles published in this journal have undergone rigorous peer review based on initial editor screening and anonymous refereeing.
View Journal | Current Issue | Register
Konferensi Nasional Kewarganegaraan
Konferensi Nasional Kewarganegaraan merupakan bentuk kegiatan kerjasama antara Program Studi Magister Pendidikan Pancasila dan Kewarganegaraan (Prodi S2 PPKn) dengan Asosiasi Profesi Pendidikan Pancasila dan Kewarganegaraan Indonesia (AP3KnI) Wilayah Daerah Istimewa Yogyakarta. Kegiatan Konferensi Nasional Kewarganegaraan merupakan salah satu upaya untuk berkontribusi dalam memecahkan persoalan kewarganegaraan di Indonesia dalam bidang pendidikan, sosial, ekonomi dan politik.
Konferensi Nasional Kewarganegaraan menjadi salah satu bagian dari upaya kontribusi Prodi S2 PPKn Fakultas Ilmu Sosial, Universitas Negeri Yogyakarta, turut serta mengambil bagian dalam memecahkan berbagai permasalahan kewarganegaraan Indonesia. Konferensi Kewarganegaraan Ke-VI mengkaji tema utama tentang Transformasi Pendidikan Kewarganegaraan di Tengah Pandemi Covid 19. Dari tema utama ini kemudian dikembangkan menjadi beberapa sub tema yang mendukung tema utama, antara lain mengaji tentang evaluasi pendidikan Pancasila dan kewarganegaraan di masa pandemi Covid 19, pendidikan kewarganegaraan sebagai pendidikan politik di masa pandemi Covid 19, peran pendidikan kewarganegaraan sebagai pendidikan karakter di masa pandemi Covid 19, pengembangan strategi pendidikan Pancasila dan kewarganegaraan di masa pandemi Covid 19. Besar harapan kegiatan Konferensi Kewarganegaraan Indonesia Ke-VI akan menjadi forum ilmiah akademik yang menghasilkan ide atau gagasan dalam melakukan transformasi pendidikan kewarganegaraan di tengah pandemi Covid-19.